IN THE NEWS
 

Read more about Global Arts Live Executive Director Connie C. Chin 


July 8, 2019.Founder and Executive Director Maure Aonson talks with Dance Informa about our new name, our comtinued committment to presenting dance in Boston, and our intiatives commissioning new dance works.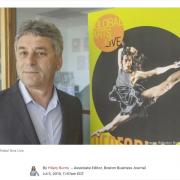 July 5, 2019. "5 Minutes With ... Maure Aronson of Global Arts Live." Founder and Executive Director Maure Aonson recently spoke with the Boston Business Journal about how the organization has evolved since its launch, and how it aims to continue bringing new artists and performances to Boston.
July 4, 2019. Global Arts Live was honored to be included in Bloomberg's national broadcast of Boston Pops Fourth of July, 2019 celebration.  We were featured as part of the many Boston arts organizations making an impact. Arts and culture are so important to the Boston community, reaching more fans per year than all our sports teams! We're especially proud to be an organization who's mission is to put the spotlight on artistic excellence from all corners of the globe.  This piece aired during the Boston Pops Fireworks Spectacular on the Esplanade, July 4, 2019.

NECN's CEO Corner
June 5, 2019. Global Arts Live Founder and Executive Director Maure Aonson discusses the role of arts and culture in Boston Arts with Arts Boston's Catherine Peterson and ArtsEmerson Executive Director David Howse.

June 5, 2019. Broadway World reports on our new name and brand. " 'Our new name and brand put the spotlight on what we value most: the transformative power of live performance to enrich and shape our lives,' said Nagesh Mahanthappa, President of the Global Arts Live Board of Directors."

May 28, 2019. "World Music/CRASHArts chooses a new name to match its mission: Global Arts Live," story by Zoë Madonna about our name change.

March - June, 2019. The Wallace Foundation reports on our rebrand, market research, CRASHFEST and more.
The Wallace Blog Part 2 June, 2019. New Format New Name to Draw New Audiences
The Wallace Blog Part 1 March, 2019. New Name, New Look to Draw a New Generation of Fans 
April 2018,  As part of the Barr-Klarman Arts Capacity Building Initiative, the Artist Risk project funded our first commissioning project. Alonzo King LINES Ballet and Zakir Hussain created a new work titled Sutra, which had its Boston premiere in April 2018 at the Insititute of Contemporary Art.
In 2015, we celebrated our 25th anniversary season!